Accommodation, Holidays residences in Martinique
Add to my travel notebook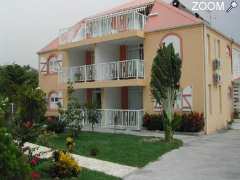 ot-972-sainteanne-10559
Disponibilités
Gérard & Annie MARIE
Route du cap chevalier
97227 Sainte-Anne (Martinique)
Phone : 05 96 74 06 58
- Fax : 05 96 74 06 58
- Mobile phone : 06 96 45 26 27

http://www.leroyaumedusoleil.com
In a pleasant and quiet, 8 apartments type F2 rentals are available including 1 accessible to persons with disabilities.
Rates: 86.65 to €92.69 night - week 536,62 to €586,92 in high season; € 65.40 at 70,43 per night - week 429,29 to €469,54 in low season, convenient weekend rates. Nearby you will find a pizzeria, self service, bakery, markets local, the white beach of Anse Michel, the islets of the Knight Cap with their funds and their many nautical activities.
Restaurant on the spot (French cuisine), breakfast, half pension, pension wifi access.