Heritage, visit, Local heritage in Martinique
Add to my travel notebook
See accommodation nearby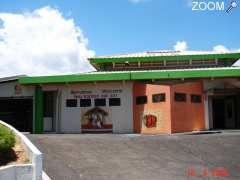 ot-972-saintemarie-9410
Disponibilités
MAISON DU BELE
Espace Zéphir - Quartier Reculée
97230 Sainte-Marie (Martinique)
Phone : 05 96 69 50 50
- Fax : 05 96 69 21 70

http://www.lamaisondubele.fr
The Bèlè House

Located in Reculée district, the Bèlè house's aim is to ensure the passing down and the preservation of cultural values related to bèlè, an African inheritance in which drums, songs and dances mingle harmoniously.
Dedicated to Bèlè, it redraws the history of this rural and artistic heritage and that of the characters by whom it has been strongly influenced.
House of every bèlè rythms (from the North, from the South and from Basse-Pointe), it is also a place for cultural exchanges, performances and shows.


TOURS
Self-guided tour or guided tour for group and introduction to bèlè* from Monday to Friday from 9am to 1pm and 2pm to 4pm, on Saturday from 9am to Midday.

* guided tour for group and introduction to bèlè after reservation

LESSONS
For children (dance and drum) : on Wednesday
For adults (dance, drum, tibwa, vocals, danmyé): from Monday to Saturday according to the schedule available by calling 0596 69 50 50.


Registration to the headquarter : OSATOURC, downtown - Felix LORNE Square or Bèlè House, Reculée district.