Accommodation, Self catering in Martinique
Add to my travel notebook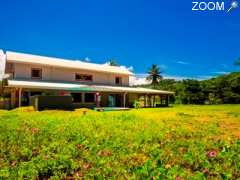 ot-972-saintemarie-803701



Disponibilités
Nicolas DOMERGUE
Rue du Gaoulé - Quartier Saint-Jacques
97230 Sainte-Marie (Martinique)
Ecolodge with pool, out-of-the-way, alone on a beach of character.


Alone on a black sand beach with much character, at the mouth of the Saint-Jacques River, surrounded by a national forest, the "House of O" ecolodge is really a unique experience, out of the beaten paths and the tourist influx.

Ideal for nature lovers, hikers, surfers, or to spend unforgettable moments with family in a site out of time, the "House of O" ecolodge is also an excellent starting point to discover a more secret Martinique.

In the creole spirit, the house lives in harmony with its environment: the shade of the trees, the large, ventilated terrace and pool are constant invitations to go out for a moment of relaxation or friendliness.

The house has four bedrooms, two large and two standards, as well as three bathrooms, for a total of ten beds (2 double beds and 6 single beds).

The fitted kitchen opens on a vast living room, an indoor dining room, and on the terrace for outdoor meals.

Friend of the trade winds, the house is quasi-exempte of mosquitoes and fresh at any time of the year.

For children, you will find on-site car seat, transat, stroller, cradle, changing table, folding bed, bathtub and a few toys.

The parts of the ground floor are accessible to persons with disabilities, including a large bedroom and bathroom.

There is no TV: you will go across the screen.

Unlimited Wi-Fi (but limit yourself...)

A few books and board games are available.

Swimming is dangerous and uncontrolled.

The swimming pool, facing the sea, includes an area for toddlers.

The hammock in the shade of the catalpas is very kind.


Rates incl. tax

/day /week /month
€390 /€2,300 /€7 900 Peak season (¨from Toussaint to Easter school holidays)

/day /week /month
€290 /€1,700 /€5 800 High season (November to April excluding holidays school + July-August)

/day /week /month
€240 /€1,200 /€4 100 Low season (rest of year)

Bail: €1,200

Cleaning package : €150 (deducted from the tariff determined initially weekly)
No charge for additional persons
No charge per night
No charge for pets
No tax at Sainte - Marie
payment 100% at time of reservation
100% refund if cancellation 60 days / 50% if cancellation 30 days 5 nights minimum
Arrival date flexible
Arrival time: from 4 pm
Departure time: up to 12 h


Click on the pictures below to see them better.