Patrimonio da  visitare , Patrimonio religioso della Martinica
Aggiungere al mio Carnet
Alloggiamenti in prossimità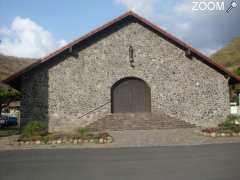 ot-972-bellefontaine-9916


Disponibilités
-------------
Le Bourg
97222 Bellefontaine (Martinique)
Majestic wooden and stone building, this church was built by the 1st carpenter of the municipality, Pierre ALANIC, with the cooperation of Father AUBILLARD in 1962.
It presents a vault in the shape of hulls of opposite vessels, supported by wooden faults, what reminds the style of the former chapels of the XVIIth and XVIIIth centuries, when they were built by carpenters of navy.
Besides its bell tower separated from the body of the building, this church has the privilege to welcome within it a set of six iron statues forged by the famous said sculptor Joseph CORAIL "Coco".
Anecdotally, this architectural masterpiece is the fruit of a collective initiative of Bellifontains which, seeing their former church unfit of the reception of the public, united their efforts to collect funds necessary for the construction of a new building.
farmers, sea fishermen, traders of fishes and vegetables, etc.
The church Saint-Pierre-Aux-Liens of Bellefontaine, is also the story of the whole people who mobilizes.


Vedere altre proposte di alloggiamento...